MRP Plus
MRP Plus is an Enerprise Resource Planning Software targeted at the core manufacturing sector, based on the specific requirements of the Business. MRP Plus is developed using world renown Oracle Database and User Interface development tools. It covers all the Business Activities in an Organization right from Marketing to Sales Accounting and Shipping. The cutting-edge-technology used in developing the application ensure completly integrated modules and feasibility to integrate with external applications that provide you with the technical advantage your company's need to compete in today's competitive markets !
The ERP software provides a complete solution to assist you in making your growing business more productive, competitive and responsive to your customer needs and production requirements.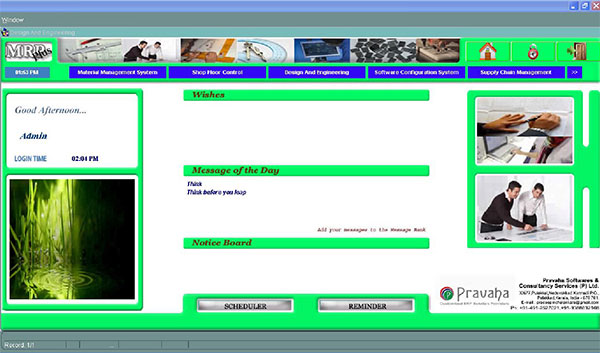 Highlights of MRP Plus Software
Developed on Oracle Platform (Front-end and Back-end)
Runs on Unix/Linux/MS environments (Any OS supported by Oracle)
Web enabled
Proven Technology
Highly Economical, Expandable, Customizable and Scalable
Supported by experienced Professionals
Professionally built and successfully implemented in many MNCs
The Primary modules in this ERP Software cater to the complete business processes of a core manufacturing industry. The major Business Activities covered in this software are,
Marketing Management System

Customer Relationship Management
After Market Support

Production Management System

Design and Engineering
Industrial Engineering
Production Planning and Control
Supply Chain Management
Process Out-sourcing
Quality Control and Quality Assurance
Material Management
Shop Floor Control
Shipping
Factory Maintenance

Human Resource Management and Payroll

Recruitment
Training
Remuneration
Discipline and Control
Statutory Forms and Reports
Attendance and Payroll
Leave Management

Finance and Accounts Management

Books of Accounts
Financial Reports
Fixed Asset Management
Cost Accounting
We also customize the basic package according to the specific business requirements of the clients. With the Customized ERP package from us helps you to get control over various departments of your company like CRM, Planning, Purchasing & Inventory Management, Internal and External Manufacturing, Quality Control etc by improving the coordination between these departments thus provide premier service to your customers. This guarantees 100% success of the project and improved customer satisfaction.